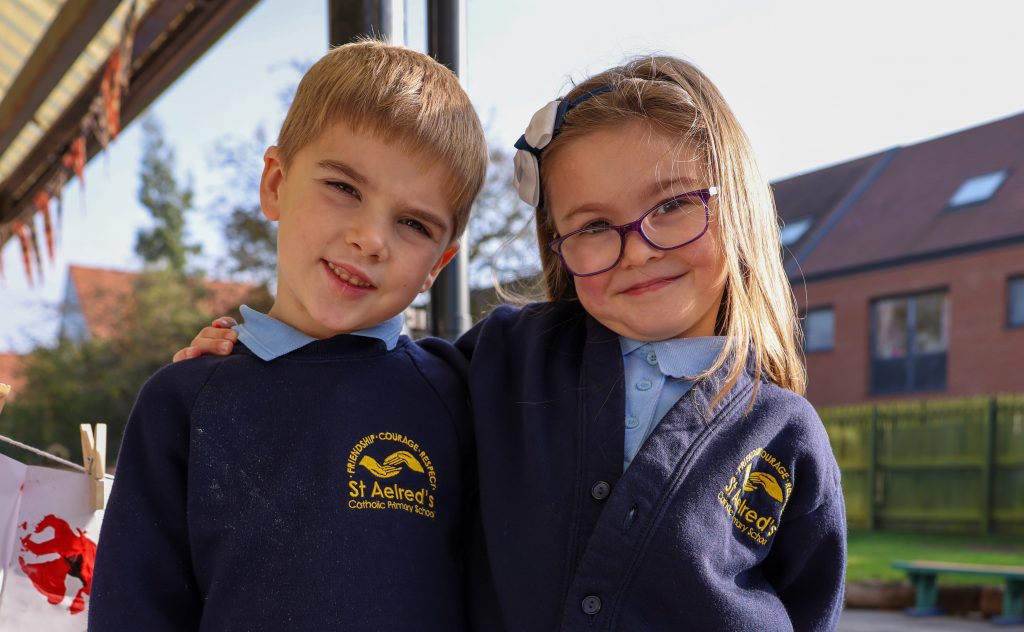 We ask parents and carers to fully support our school uniform policy and to ensure that pupils look smart for school.  We think that our uniform is affordable with the majority of items such as trousers, skirts, pinafores, summer dresses etc being available from a range of outlets.
Uniform helps to unite the children as members of St Aelred's Catholic Primary School; encourages them to be proud of the school they represent; helps to avoid peer pressure and distractions relating to clothing and accessories; enables children to look the same regardless of their socio-economic backgrounds; and helps families have a smooth start to the day with no debates about what children are going to wear.
All items of uniform, including uniform with our school logo such as sweatshirts and cardigans, polo shirts, PE T-shirts and book bags, are available from our supplier:
APC Clothing – Online stockist of uniform for St Aelred's Catholic Primary School, who also offer "ship to school for free" option at checkout.
Uniform List
Winter
Grey trousers (tailored)
Grey or navy pinafore or skirt
Navy blue school sweatshirt or cardigan with logo
Light blue polo shirt (with logo, preferably)
Grey socks or tights
Flat, black shoes
Summer Alternatives
Blue checked or striped school dress
Grey shorts (tailored)
White or grey, short or knee socks
Flat black or navy sandals
P.E
White round-necked T-shirt (with school logo, preferably)
Navy shorts (plain)
Black pumps (older pupils may prefer to wear trainers for outdoor games)
Outdoor kit for cold weather:
Jogging bottoms – navy, plain
Sweatshirt – navy
Trainers
PE Kit should be left in school in a drawstring bag so that it is always available.
All clothing and PE/Games kit should be labelled clearly with the child's name.
Other Dress Code Infomation
Children need a bookbag and a drawstring PE bag.
Jewellery may not be worn in school with the exception that, if a child has pierced ears, small stud earrings (studs only, for safety reasons) may be worn. Watches may be worn, but children must take responsibility for looking after them. School is not responsible for loss or damage to stud earrings, watches or any valuables brought to school. Earrings and watches must be removed for PE lessons.
Long hair should be tied up for school.  Extreme hairstyles are not appropriate for school such as shaved styles or dyed hair.
Make-up and nail polish are not allowed.